Location
Hilversum - Netherlands /
Eindhoven - Netherlands
Role
Kotlin Developer
At
Xebia
Have you become the go-to person for software-related problems, simply because you know all the answers? Do you love Kotlin and would you like to work with the best software engineers, share knowledge, and work on innovative projects? Then we are looking for you!

Meet our software developers
Join Xebia and you will work with people who value the principles of clean code and deliver high quality without compromise. Our goal is to be the authority in our field, and we help you become one too. We are a group of developers and entrepreneurial engineers who turn the latest technology trends into business advantages We are leaders in Cloud-Native Development. As a mainstream frontrunner, we build the future with software for our clients and create solutions, together with you.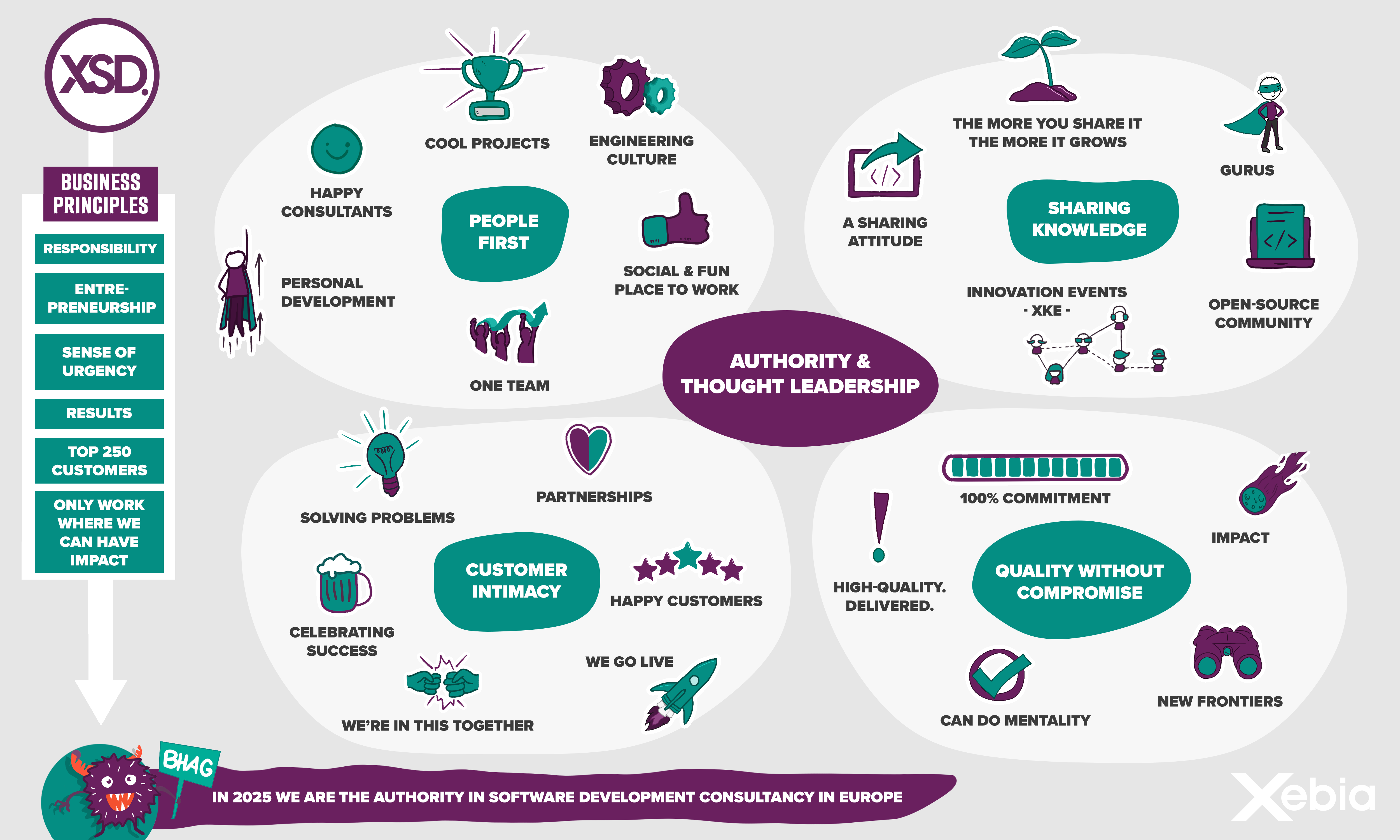 Join us and you will be part of:
A leading software consultancy group that explores and creates new frontiers.

A group Kotlin enthusiasts with internal and external communities and events.

A team of people that continuously challenge each other to learn and grow.

Get time for Innovation and Knowledge Sharing as it's one of our core values.
We are a group of developers and entrepreneurial engineers who turn the latest technology trends into business advantages. As a mainstream frontrunner, we build the future with software for our clients and create solutions, together with you. We take on projects that add to our mission of being the thought leader in our field.
Curious about our work and projects? Then check out our customer stories!

Kotlin Dev Day 2022
We believe sharing knowledge is important in the tech industry. Our Kotlin Dev Day conference is one of the things we do to give back to the community! It's the 'cherry on top' of our efforts in the Dutch Kotlin Community.
This is your dream job if...
You want to be part of a movement that loves Kotlin and organizes many knowledge sharing events, like Kotlin Dev Day
You are eager to learn but also love to share your own knowledge
You want to be more than just a code monkey; you also like to have a good understanding of business needs

You want to be part of a team that focuses on personal development, team development, and having fun together
This is not your dream job if...
If you don't like to work for different customers or don't enjoy the excitement of learning new environments and new people

You don't like to work with the newest technologies and don't want to stay up to date with the latest in tech

You like to do the same, day in day out
Your experience at Xebia
Working together on exciting challenges
We value team cohesion, knowledge and personal development, innovation, and fun. We aim for authority in everything we do.
01
Social
"Having fun together!" is the number one rule for us. We organize picnic lunches, BBQs, team days, and other amazing events like; skiing together or going to Ibiza, dinner parties, sports events, and our own TED conference. You can even organize your own event! The sky is the limit! Besides that, you will work in a cool and inspiring office with free lunch, fruit, and drinks.
02
Personal growth plan
"If you grow, we grow", that's how we think. Overall, we focus on Tech Skills, Consultancy Skills, and Personal Skills. We have many courses in these three areas. We have our XSD Guru Development Program where you can work on your authority with the support of marketing. On top of that, you will get a personal coach and learn from seasoned experts that help you to succeed at Xebia.
03
Training Budget & Conferences
A training budget of €5.000,- without a fight. In fact, it's your obligation to spend it every year. You will also receive 6 days to spend on whichever training you like or use it to visit conferences with colleagues.
04
Your Devices and Books
Choose the laptop and phone you want! On top of that you can choose new devices every 2 years. You will also have the advantage of an unlimited budget for ordering the books you need to grow as professional.
We have our own XSD Bookclub you can join if you like!
05
Knowledge Sharing
Our Open Kitchens, BI- weekly Knowledge Exchanges, Innovation Days, frequent Tech-Rallies, and TED-style conferences, all contribute to exploring and achieving your potential, individually and collectively as Xebians.
06
Great Community
In addition to internal knowledge sharing, Xebia is also an active player in multiple communities and regularly host, speak, attend, and organize Meetups and conferences. Have an idea for a meetup we should sponsor? Or want to start a new one? You've got it. We will help and support you!
07
XSD Infographic
If you need more reasons to apply for this dream job, please take a look at this infographic. It contains all benefits, the application process, and a whole lot more!
People First
You grow. We grow. Xebia puts People First, always. With a trust on personal and professional development Xebia provides a mutual atmosphere of respect, trust, responsibility and accountability that helps foster great ideas and innovation.
Sharing Knowledge
The more you share it, the more it grows. With mandatory bi-weekly sessions of Xebia Knowledge Exchange, Xebia ensures a flow of knowledge from country to country, unit to unit and employee to employee.
Customer Intimacy
We build long lasting relationships with our customers and serve them on an equal level.. We work on common goals and trust, by being truly interested in the person and adding value pro-actively and consistently.
Quality without Compromise
Be it work, be it personal interactions, be it the surroundings or be it the self, at Xebia 100% is the norm. Because enough is just not enough.